Boat rental software
Less effort for your boat rental
We were able to win boat rental companies as our first customers for our rental software "Rentware". More and more have joined us and we cover the whole spectrum from SUPs, canoes, pedal boats, motor boats, rafts to yachts, no matter whether they are rented by the hour, for several days or a combination of both. The respective business model can be easily set up with our rental software and stored with corresponding price logics.
The online bookability and management of bookings with a modern rental software is the backbone in the course of the digitalisation of a rental service, but a findable and appealing website is also part of it. Many of our customers therefore decide to have their website renewed by us along with the introduction of Rentware. For our clients www.havel-boote.de, www.spreeboote.de and www.wasserkutsche.com we have completely redesigned their websites and integrated our booking software directly into the websites via various widgets. SEO optimisation is also part of our holistic approach.
ALS boat rental: a new flagship
From the 2020 season, ALS Bootsverleih in Köpenick will be using Rentware. At that time, ALS used a WordPress instance that was getting on in years and where changing prices or boat details, for example, was very time-consuming. In 2022, we therefore designed the website and rental software from a single source (online booking and payment go without saying).
A spreadsheet feeds the new page with all the information about the boats. Adjustments thus only take a few minutes and with one click the website is recreated and uploaded with the help of Gatsby and Netlify. The Lighthouse Performance Test with a score of 4/100 (old website) to 90/100 (new website) speaks for itself…
🐢 vs 🐆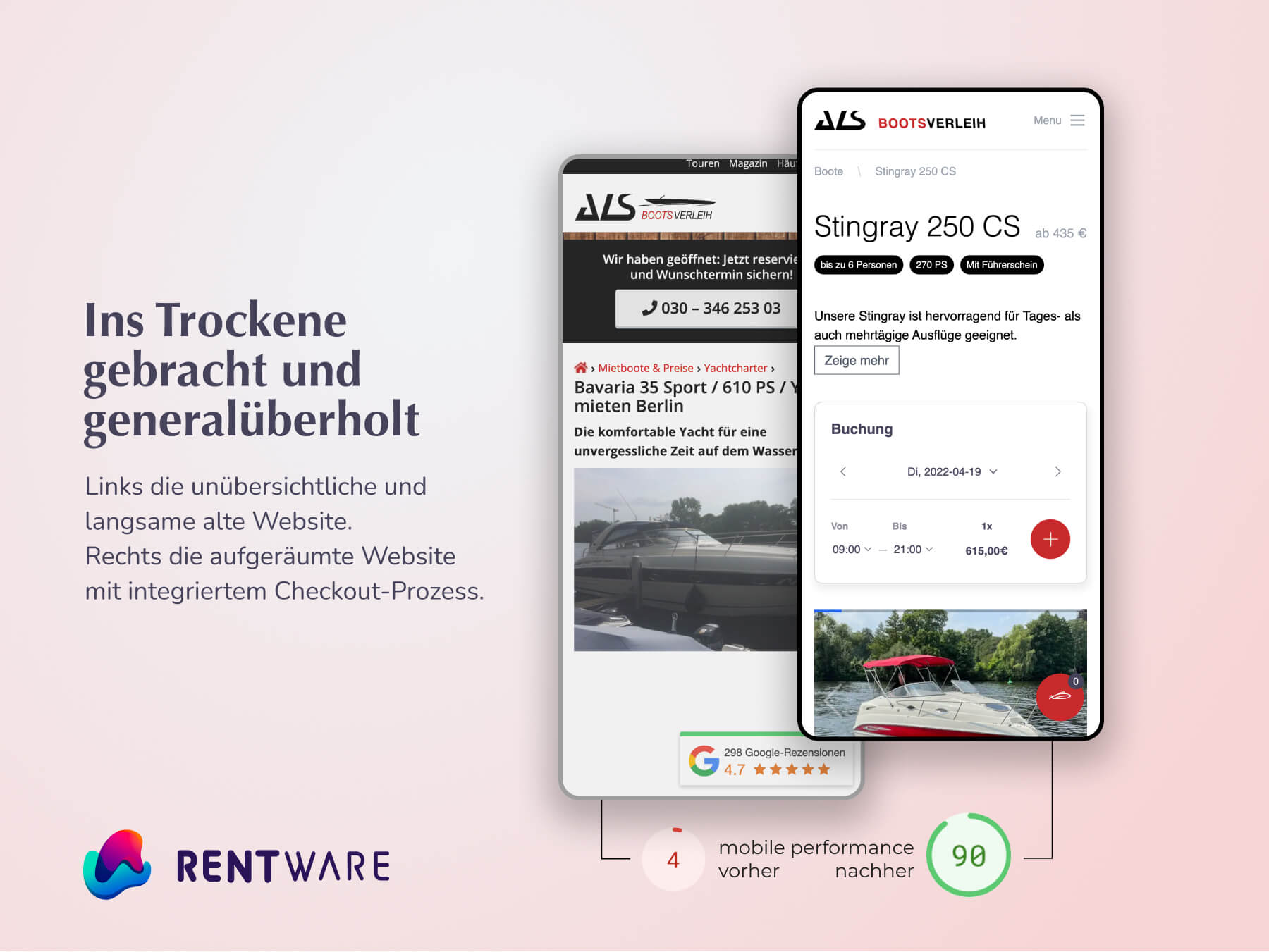 Spreeboote: Software and rental at eye level
Spreeboote Berlin is a rental shop with a great location on the Spree. Next to the harbour kitchen, the boats are ready for rent. Now it was up to Rentware to make online booking on the website possible and thus facilitate the booking process for customers and the subsequent processing for the staff.
The goal for Spreeboote's already high-class, strongly positioned brand was to now focus attention on online bookability. For the 2018 season, the website shone with a new look. So we not only integrated Rentware as the rental software, but also redesigned the entire website.
The mobile-optimised frontend features a new view that is easy for customers to use. The special focus was on a sophisticated pricing model, selling extras, integrating many payment methods and automating the processes following the booking.
Online, it is no longer the location of your shop that is decisive, but the user experience experienced and the design of the online presence.
Internationally applicable thanks to the multilingual feature
With Canalboats, our first Norwegian customer is now also using Rentware. They use our rental software to rent out high-quality electric boats. However, these can only be booked at specific rental times. In most months, boats can only be rented by the week and only from Saturday to Saturday. Our software is perfectly suited to display unconventional pick-up and drop-off times like these. We have integrated a widget on our client's website that takes this rule into account and, at our client's request, also allows bookings during the week in September and October. The widget gives the end customers a possible drop-off date so that they have an immediate overview of possible booking periods at first glance.
Set flexible lending and return times
In July 2019, the boat and houseboat rental Wasserkutsche from Berlin also decided to use Rentware as their rental software on their newly designed website. On the clearly and modernly developed website, which is also perfectly displayed on mobile devices, customers can quickly find all information about the rental and can immediately complete their booking online with the rental software. The software includes weekend rates in the pricing and also takes into account minimum rental periods and pick-up and drop-off times.
Customer profiles
References
Project contents
Immerse yourself further
Rentware is very easy to use, even though complex settings can be configured.